6 Enterprising Mobile App Development Trends to Make Your Year 2019 Memorable
We are only halfway through the current year and there have been sparkling advancement in the field of mobile app development already. Lots of things have been written about the futuristic mobile app development trends that are going to rule the year 2019.
So, where are we in that respect? Are those trends really making their mark in the current year? There are lots of other questions too in the minds of readers. Everyone wants to know whether mobile app development is the future of the IT industry? Lots of people have already said a lot about it. But, nevertheless, there is still a lot to be said so let's begin.
The impact made by smartphones and mobile application design and development across the globe cannot be undermined. We are seeing our life revolving around mobile devices. In fact, it would not be wrong to say that mobiles have become an essential part of our day-to-day lives. We are seeing mobile apps being used for each and every industry.
Irrespective of whether it is business, health, social life, banking, education amongst others. With the help of mobile apps, it has become possible to increase the business productivity, conduct effective marketing and promotion of the brand. It can even be quite useful when it comes to maintaining relationships with the customers and suppliers which has resulted in the consistent growth of a business.
There has been a dramatic increase in the revenue generated from mobile apps. The entire credit for that goes to the up-to-date hardware capabilities of mobile devices. This includes large memories and better cameras. With time, mobile devices have become upgraded. Today we see them equipped with features like proximity sensors, high resolution displays, superb graphics, high security, etc. With the help of mobile applications, it is possible to get the maximum out of the hardware capabilities and features to suit the needs of the users.
Today, people are going crazy over 5G speed. Consumers now wish to get swift connectivity, better communication, and seamless exchange of data within devices. It is about time for a mobile app development company to take advantage of the mobile app development trends so that they can be better prepared for the future before it becomes a sudden bitter truth.
In the forthcoming sections of this write-up, we have discussed the most enterprising mobile app development trends to make your year 2019 memorable. We promise after reading this content piece you will be in a better position to create breakthrough mobile apps for the future.
Let's now look at the enterprising mobile app development trends.
1. Internet of Things (IoT) Creating the Right Noise Across the Globe
Internet of Things, popularly known as IoT has become an integral part of our life not only as an individual but as an entire society. We are seeing smart things being developed like Smart TV, Smart City, Smart Refrigerator amongst others. The entire credit for this phenomenon needs to go to IoT technology.
IoT has made our lives more comfortable and secured thanks to its ingenious facet of connecting impossible things with the internet. Today, we are seeing IoT being practically employed in different industries like healthcare, agriculture, supply chain, manufacturing, etc. This particular thing showcases the very fact that IoT enabled mobile apps are trending a lot. We will see a drastic increase in its popularity as the days go by.
For example, look at the Amazon Go No Checkout Store. The customers simply have to download Amazon Go app and enter the store. Then simply choose the products and leave. There is no drudgery of waiting in the queue for payment.
Here's how it works. Amazon keeps a track of the customers who pick up or return products automatically. Once they have bought an item, the amount is deducted directly from their Amazon account and the receipt is sent automatically to their registered Amazon email address. This way they do not have to wait in queue for checkout and pay for the goods purchased. This not only saves time but also ensures that the customers have a great shopping experience.
2. Artificial Intelligence is a Sure-Shot Thing
Source: https://s22908.pcdn.co
We are already seeing people talking a lot about artificial intelligence (AI). People are already recognizing the ingenious benefits and revolutionary changes that AI can bring in the lives of people. You cannot undermine its impact on business operations.
The mobile app development industry has not remained deaf to the increasing popularity of artificial intelligence-based mobile apps. Today, we are seeing some amazing AI-based apps already getting rave reviews from iOS device users.
Since iOS device users are more demanding than other types of mobile users, it is only time before all the other mobile platforms start using AI in their app development. If you are a mobile app development company, take advantage of this thing and create next-generation iPhone and iPad applications using AI that can make you win the hearts of iOS users.
3. Augmented Reality-Based Applications to Increase with Time
With the superlative success of PokemonGo, it has been established that people love augmented reality based apps. This is absolutely true in regards to the gaming industry. Today it is possible to see lots of augmented reality games available in the market like Sky Siege, iOnRoad, and myNav. In case, you are already dealing with game application development or wish to capture the hearts of mobile game lovers, this is the right time to jump into the augmented reality world. This is probably one of the biggest trends in the mobile gaming industry.
4. Virtual Reality-Based Mobile Applications Does Not Have Enough Competition
Virtual reality concept is not that old. Lots of big companies are using it to their advantage. Some of the prime examples of that being Google Glasses, one of the most hyped but failed projects in virtual reality segment. But, still, there are companies with a big heart who have launched great virtual reality devices to win the hearts of their clients. Some of the popular examples being Google Cardboard, Samsung Gear VR, and Oculus Rift. The virtual reality apps have become quite popular among users. The great news is, there is hardly any competition in this industry. If you are into mobile app development, this is your perfect chance to dive in and take advantage of this upcoming mobile app industry trend.
5. Android Instant Apps will Become a Norm
Source: https://whambam.io
The amazing thing about instant apps is that you do not need to download it to run them which is the case with native apps. Instant apps have been developed to serve the unique purpose of the users – to make them access the instant app through a shared link. With the help of this shared link, it is possible for the user to get the abbreviated version of the app. This way the user will be able to access only those sections of the app that he/she requires at a given point of time.
Android Instant Apps can be utilized without prior installation. It is very easy to run them as easy as surfing a webpage. For example, if you wish to only see the Facebook feed, then you access only the news feed section of Facebook.
The peculiar thing about Android Instant Apps is that they are quite smaller in size in comparison to regular apps. This makes the page loading time quicker and reduces the bounce rate.
In the current year, we have already seen Vimeo using the Android Instant Apps feature to see an increased session rate by 130%. This new upcoming mobile app development trend is worth keeping a track of in the current year, especially for companies who are looking to minimize their cost and earn their investment back in a short time. Some of the best examples of Android Instant Apps, include Buzzfeed, NYTimes Crossword, Skyscanner, and Red Bull TV.
6. The Increased Use of Chatbots in Mobile Applications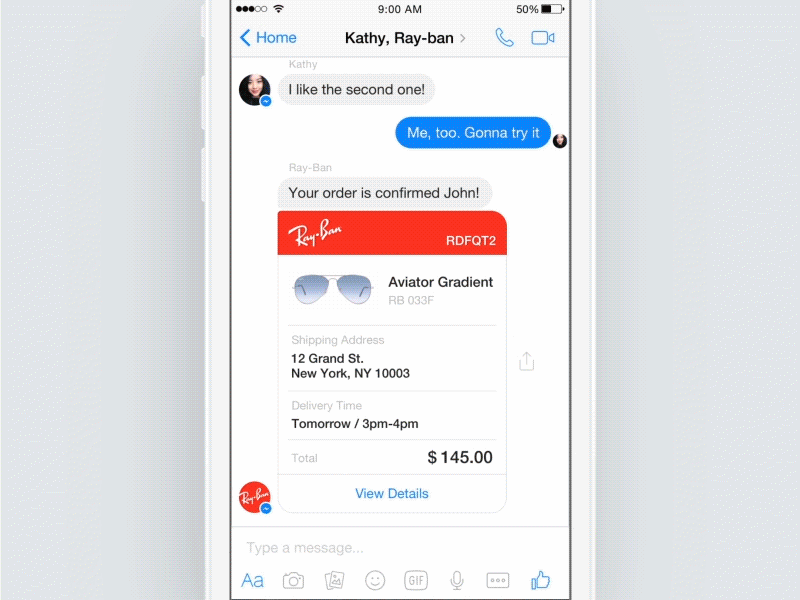 Chatbots have already been much-talked around thing amongst people. With the advancement in technology, we can already see the results of seamless integration of chatbots with mobile apps without any difficult coding. Nowadays, it is very difficult to imagine running a business without chatbots. In fact, if you have chatbots in your mobile apps the task of the users become very easy and they really appreciate you for that. Reason? It helps them to get swift and precise answers to their queries whenever required.
In addition to this, we are already seeing mobile apps being developed for different services like food delivery, cab services, and online shopping. By integrating a chatbot with these mobile apps it will assist customers to get their frequent queries resolved by bots. This way there will be no requirement of customer support. Hence, businesses will be able to save loads of money.
In the current year, we will see chatbots serving many new features that will make the lives of your customers easier during their day-to-day purchases. Can it get any better than this?
Wrapping Up
These are some of the enterprising mobile app development trends that will make your year 2019 memorable. With customers becoming more and more demanding by nature, it is time to provide versatile features in mobile apps. We hope that the trends that we have mentioned in this write-up will help your business meet the growing needs of your consumers and grow your business exponentially.